THE WORK OF GEORGE ROWLETT
by Robert Hewison
Reproduced from the Exhibition Catalogue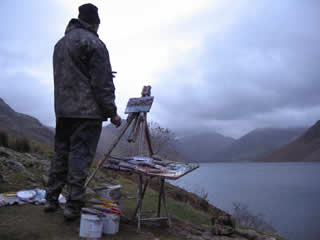 When George Rowlett paints in the open air he is like a man wrestling with his subject. But what looks like a struggle is really an intimate dance. He stands back from the easel, a blade loaded with oil paint in one hand, and begins to shuffle as a boxer might, or an inexpert devotee of tai chi. His eyes and hands seem to be feeling the landscape, his shoulders move with its contours, both arms embrace its forms. Then, with a sudden stab and twist, another glistening slice of paint has been added to the thickening layers of rich impasto on the board before him.
If that were all he did, he would be a very interesting gestural painter, a macho wielder of plasterers' trowels who relies on the Zen of accident for his more delicate effects. Rowlett does use accident – increasingly he accepts the detritus of ash or leaves that can blow into the congealing surface of the paint – but the hard-won product of enduring wind and weather in the open air is then subjected to a second process, when the now caked and encrusted board is brought back into the studio.

There, the light dance and swift action of the outdoors is replaced by an interior of slow contemplation. Nothing may happen for silent hours. Then, as in Flaxfield at Freedown, Riders, areas of the surface will be replaced with similar but more effective marks, or paint scraped away to rediscover the right image underneath. Rowlett calls it 'a reinforcement of the actual logic of the painting.' That is why, for all their spontaneity, there are paintings that can take ten years to finish. 'I think so slowly.'
This latest exhibition is an opportunity to explore the creative tension in Rowlett's work between thought and action, between an intense, physical engagement with the subject and a reflection on how theimage is formed. It presents all four of the ruling motifs that pre-occupy him: London and the Thames, beside which he has lived and worked almost continuously since he came to study at Camberwell in 1962; the shorescape of East Kent, where he has had a house with his partner Marion since the early 1990s; the flower paintings to which he returns every year, the pictures growing with the plants; and the sublime landscape of the Lake District.

This latest passion, represented here by the grim and changeful flanks of Wast Water, grew out of a residency in 2006 at John Ruskin's former house Brantwood near Coniston, a period that had been preceded by painting Ruskinian subjects in the Alps. But 'the mossiness and wetness' of the Lakes is also an echo of his 'idyllic' childhood near the Holy Loch in Argyllshire. Artist and landscape, nature and art have always been seen together: his first work as a child of seven was a book of pressed flowers, interleaved with his own drawings. At the age of sixteen he began to train as a forester, 'the best employment I ever had.' A painting expedition in the 1980s to the flaring light of South Africa taught him 'how dependent I was on our water-saturated atmosphere, – what a British-English painter I was.'
Rowlett also recognises that all four motifs in his subject matter have a distinctly British heritage, and where as earlier there were times when he resisted the pull of tradition, in his maturity he works with it. The ploughed surfaces of his paintings can be traced back to VanGogh's Wheatfield with Cypresses (see image from the Metropolitan Museum), a reproduction of which impressed him when he was at grammar school in Lincolnshire. Later, when he began to study at Grimsby School of Art, he had a passion for Soutine and German Expressionists such as Kirchner. When he got to Camberwell he was challenged by the contrasting approaches of Euan Uglow, who he thinks of as the master of the analytic, factured surface, and Frank Auerbach, 'who was always telling me to think about painting round, and behind things.'
Auerbach was 'magic', but, like tradition something that needed to be contested. 'It was a direction I was already going in, but I knew that I was being so strongly influenced by Frank that it was a trap – I saw it clearly in other people.' It is possible that resistance to falling into the role of an Auerbach disciple caused him to move on from graduation at Camberwell to the Royal Academy Schools – 'to improve my draughtsmanship.' He spent three years there, mainly in the life room. Yet now he rarely paints the figure, and there is no under-drawing in these works.
Like most committed artists in the years before the arrival of celebrity culture, Rowlett's early career followed an all too traditional path. There was the discovery of the sapping of inspiration that comes from teaching, of the penalties of what Cyril Connolly famously called 'the pram in the hall', and the liberation of realising that labour that did not engage the creative imagination – in his case dealing in scrap metal and later working as a chef – could support life, so long as there was still some time to paint. There is nothing romantic in this experience. It demands graft as well as craft, and it is no surprise to discover that for Rowlett there was no break-through moment that suddenly changed his art or made his reputation. 'It just got surer and surer, whatever happened – the purpose became solider and solider.'
This solidity allowed him to rethink his work back to its original direction. 'I tried a more traditional realism, even something a bit Hockneyesque, but it crept back to what I instinctively wanted to do. But now it did feel different – somehow it was open again.' In the mid-1980s he began to show at the D M Galleries and then in the early 1990s at the Albermarle, and the work started to sell. His first show at the Art Space Gallery was in 1993.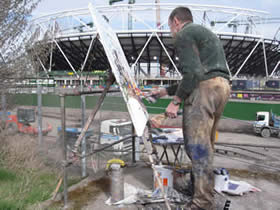 This latest exhibition coincides with the opening phases of a new project, which has the potential to synthesise all the current themes in his work. When he moved in 1987 from a studio in Peckham to a studio in Rotherhithe, he found himself with a view of the demolition of the old dock buildings on the north shore of the river, and the construction of Canary Wharf. Caught up by the cranes and the activity, he recorded what he saw in a long series of painting as the project grew before him. Rotherhithe was later given up, and he took another London studio in Richmond Road, but in 2008 he moved to a new studio in Hackney –just on the edge of the site designated for the 2012 Olympic Games.
Rowlett is well aware of the hostility there is to the vast, imperious project under construction in the LeaValley, and he shares the concerns of people about what it will do to this jumbled, cast aside but authentic part of London. But here is something to record, as month by month the skeleton of the Olympic stadium takes shape. 'Architecturally it seems such an important event – if Turner or Constable had been here they would have done the same. It is such a big intervention – even if I didn't like it, it would be important. I'm painting it because it is here

.'
Working at his vantage point on an abandoned railway embankment overlooking the Olympic site, Rowlett has become a familiar figure to the patrolling Ghurkha security guards, and he has even chatted with the site manager. He loves to watch the huge engineering vehicles as they forage about. Theirprimary colours seem to match the industrial-size cans of red, yellow, blue and white that he has to manhandle to his own construction site beyond the Olympic blue fence.You can see the same colours in the boats


Hauled Up on Walmer Beach for Winter. The only colour he can't get from his primaries is the Alizarin Crimson needed for the purple of Plunging Flaxfields or Flax, Sea and Sky, St Margaret's. 'I used to think it was too fancy, but I have brought it back – the colour has to have the authority of nature.'
There is another kind of authority that Rowlett's paintings have to have; one that links the developing series of Olympic paintings to everything that he has ever done: the authority of work. The deep moulded,carved and scraped surfaces of his paintings are a record of the physical work that comes with the creative dance before the subject, and the mental and emotional effort then needed to bring it into his imaginative self, before being projected back into the image before him. 'I feel as though I am acting as the momentary focus, the subject comes from out there, and then it goes out again, it's instinctive, but also calculating. When I am painting in nature I am twice as good as I really am.'

'Work for me is a moral imperative. I have the constant feeling that we are not here for very long, so we have to justify the time.' That feeling may be the Protestant work ethic of a Presbyterian childhood, but it is also the result of experiencing work in and on nature, in farming and forestry – and even in scrap metal and cooking. He admires and understands the fisherman at Walmer and the labourers at the Olympic site because of the physical essence of their lives and what it means for their identity. 'The site manager is making things, the way I am making things.' When, as a result of visiting Brantwood, he began to read Ruskin on the difference between the slavery of servicing a machine and the creative liberty of craftsmanship, he recognised something that he felt he had known all along.
This commitment to the 'much loved duty' of work extends to making the process more challenging. 'About ten years ago I dumped using brushes because I was becoming too adept. I wanted to make it physically more difficult.' So now he carries with him an array of blades, scrapers, spatulas and trowels like a giant's surgical kit, and works with his hands directly into the paint. 'I am marking what is happening, which becomes the thing itself'. He likes to recall what his tutor Euan Uglow told him: 'George, it's about making things.'

This exhibition, then, presents George's latest things. They show how Rowlett is happy to place himself in a tradition, while at the same time always obeying the injunction to make it new, to condense the material and emotional truth of the subject. But there is also something curious about the materiality of a Rowlett painting. Even when it is finished, and hung on someone's wall, it remains mobile, as its animated surfaces and burning colours respond to the constant changes of atmosphere and light.Even when he has released it into the world, the work of George Rowlett carries on working.