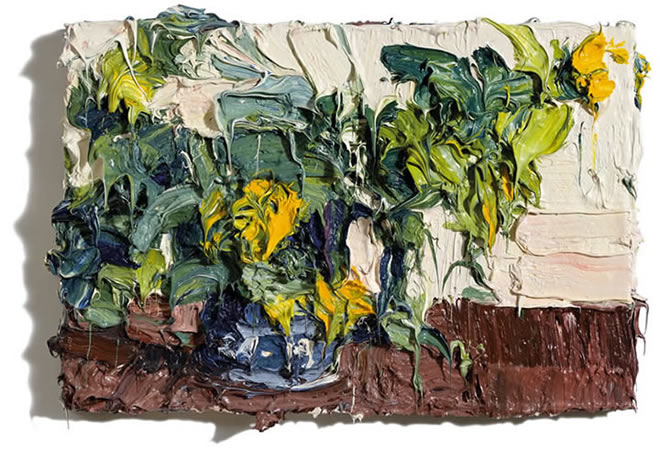 Jerusalem Sage Buds in RNLI Anniversary Jug, 1824 -1924
2018; oil on board, 20 × 30.5 cm


What is all this juice and all this joy?
A strain of the earth 's sweet being in the beginning
In Eden garden. – Have, get, before it cloy…

Gerard Manley Hopkins, "Spring"
In Nature all things move toward the light. So does George Rowlett who sets out most days on bicycle – (he doesn't drive) – to paint the radiant world around his Kent home. Rowlett, who is a wiry seventy-seven, paints in all weathers and all seasons. According to Rowlett, his artistic obsession is to trap "the rhythm of how things grow". His creative endeavour is matched by a physical one. Before he can bear witness to the world around him, Rowlett has to bear his equipment from his bike to the chosen location, a slog which requires as many as five trips: first the easel, then oilboard, then the four large cans of Stokes paint (red, white, blue and yellow), then the table on which to rest his palette. With all his props in place, Rowlett's performance can begin. His paintings contain two dramas: the drama of seeing and of doing.
A country boy from Scotland, who first studied forestry before taking up painting in his late teens, Rowlett shares with Vincent Van Gogh, his first inspiration, an essential porousness. Nature flows into him, he flows into Nature. His paintings have the pulse of Nature's energy, the jazz of its flowering and decay. "It takes you over. It tells you what to do," he explained. "When I'm painting I'm twenty times as bright as when I'm not painting. You're living the rhythm. Nature's acting on me."
Rowlett's paintings are grown rather than constructed: he never sketches beforehand. I put a patch of colour, then another patch of colour – then things start to resonate and expand," he said. "I find out by doing. "Although he later re- assesses his work in his studio,all Rowlett's canvases are painted in a day. "It's one act. It has to be one act," he said. His paintings contain a sense of both immediacy and urgency. (If an insect or a leaf gets stuck in the lashings of paint while he's working, they stay.) Rowlett long ago gave up painting with brushes – "I was getting a little too slick" he said; he prefers instead the more unwieldy, difficult decorator's scraper whose impasto makes the surface of the canvas more dramatic and the act of painting more theatrical and part of the canvass's content. Stand back from a Rowlett field of hollyhocks, for instance, and you see a harmony of colour and design; move close and you're aware of a tumult of textures and gestures. Rowlett gouges, scrapes, slashes as he works, sometimes even using his fingers to dimple the canvas. "I'm trying to make touchable, tangible things," he said. Nature's clashing energies – "swift, slow; sweet sour, adazzzle,dim…" as Gerard Manley Hopkins characterized them, seem to pop out of the hubbub in Rowlett's canvasses.
"Happiness writes white," the French novelist Henri de Montherlant said. Prose can't conjure joy but painting can. In Rowlett's case, his exhilaration is palpable both in the jazz of Nature's flowering and the jazz of his dexterous gestures. "Obviously, rhythm is important to me," Rowlett said, who can spend up to five hours at a time in his protracted bliss. "Where the flow keeps going – the rhythm – you're in tune with everything," Rowlett said. His paintings swing: and, like the song says, "It don't mean a thing, if it ain't got that swing."
London, March 2019
John Lahr writes for the The New Yorker, where from 1992-2013 he was Senior Drama Critic. His latest book Tennessee Williams: Mad Pilgrimage of the Flesh was the winner of the National Book Critics Circle Award for Biography, The Sheridan Morley Prize for Best Theatre Biography, and the American Academy of Arts and Letters Harold D. Vursell Award for "The Quality of Prose".