We are delighted to launch our 2005 programme of solo shows with this exhibition of paintings by Jeff Gibbons.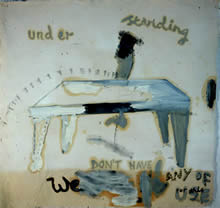 Completed during the last four years, these paintings continue his involvement with the juxtaposition of images and words.
This interplay between literary language and the language of painting sets up a parallel, and sometimes tautological dialogue, that makes the naming of the paintings an integral part of the process of making the work. For instance, the painting titled Unrichtig (German for 'incorrect' or 'wrong') presents us with an old school desk that evokes associations with learning and the concept of 'correctness'. At the same time, we are confronted by a red line bisecting the painting that is reminiscent of a teacher's marking for 'the incorrect'.
In another painting titled Herz (German for 'heart') he plays with the idiosyncrasies of English pronunciation of foreign words that can lead to double, or more, meanings. In this painting, Jeff Gibbons associates 'heart' with the word 'hurts' (as the word herz sounds like in English) and since "hurt" and "heart" are often symbolically put together; the dialogue in this painting is between the pink and red surface staining and the X-ray of another painting underneath.
Although Gibbons usually concentrates on modest everyday objects, the work is fundamentally concerned with the way that painting, and only painting, can explore the intellectual and spiritual dilemmas that characterise our contemporary age. As he states "My aim is to make something on a human scale, personal, individual, psychological and discursive".
A prizewinner in the John Moores 19 at the Walker Art Gallery, Liverpool and the 1997 Nat West Prize he was born in England in 1962 and studied at Ravensbourne (1980-81), Middlesex Polytechnic (1981- 84) and London University (1989 – 91)