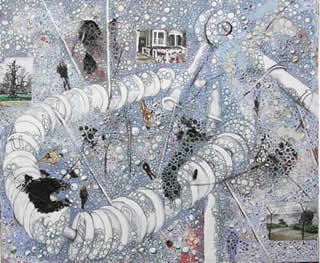 Jeffrey Dennis's experimental approach to painting and his innovative use of surface, texture and colour has placed him among the most inventive painters of his generation. In the twenty eight years since graduating from the Slade School of Fine Art he has developed a distinctive and persistent visual language to convey challenging themes based on a network of pipes and narrative fragments that are woven through a dense painterly bubblescape; a layered space of modulated and fractured colour that holds the other elements in place.
Dennis is a master of the incongruous juxtaposition and the structure of these paintings has associations with early Renaissance altarpieces. Fragments of stories are assembled, subjected to distortions of scale and space and overlaid with cross-currents of other narratives and material accretions, so that they describe a fractured world that is both plausible and extraordinary.
.
In this new body of work there are tubular structures that relate to the networks of tunnels, conduits and pipes that convey services, people and waste beneath and through our cities and in the most recent paintings they have assumed the complexity of half-completed spacecraft. Partly inspired by the Soviet MIR space station, they are a comment on a project in outer space that outlived its intended lifespan through a programme of improvised running repairs. It endured long after most people had forgotten it existed, eventually surviving the collapse of the USSR itself. Dennis suggests that the circling cosmonauts' vessel might be seen as analogous with the practice of Painting which is also being given an extended life only by the ingenuity and invention of its practitioners.
Jeffrey Dennis has exhibited regularly in the UK and internationally since 1979 and this will be his third solo exhibition at Art Space Gallery. He has had solo exhibitions at Whitechapel Art Gallery (1986), Orchard Gallery, Derry (1993) and regularly in New York and Milan. His work is held in permanent collections worldwide including Arts Council of England, the Tate, the Stedelijk Museum, Amsterdam, Foundation Cartier pour l'Art Contemporain, Paris and private collections in Europe, America and the UK.
A catalogue with full colour plates and text by Jeffrey Dennis in discussion with David Ben White is available