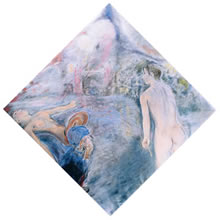 Shut the computer down.
Pursue the young painter with brush in hand to the Pool of London.
An innocent B.B.C. asked small children whether they fell in love with other children. Some said they did, others said never.
One said 'when I see my friend my body tingles all over.'


I try to make lean, potent paintings.
When I see good paintings the hairs on my spine spring.
I become a child.
I love to look at many subjects.
Small pictures cover the walls of my room witnessing my curiosity.
My pictures are asymmetrical.
The odd shapes more easily contain a variety of thoughts.
I do not know why.
Perhaps Ruskin knew.
He felt the idea of a flatfish possessing both eyes on one side of the head was disagreeable.
Altarpieces by Raphael balanced more exactly than Tintoretto's pictures.
Picasso knew the shock value of a wandering profile.
Computer-illiterate I feel computer-bullied.
Pictures need such a little information.
I mock the overloaded collection of data.
When I visit Beachy Head, I pass a kindergarten.
In the dim green light, children watch screens feeding them information.
This exhibition aims to be computer-indigestible.
Compute less, feel more.
Some artists concentrate on a single theme.
Morandi on bottles, Constable on trees.
I like looking and wondering at a large range of subjects and at the marks paint makes.
The Art Space Gallery is courageous and often shows large engagements with the great outdoors, where furze crackles and paint slips splendidly from the knife.
Shut the computer down.
Its netting cannot provide equivalence for tempting dabs by Rubens, Constable, Balthus, Renoir, Matisse, Cézanne, Soutine and Turner.
Visit the National Gallery, the Tate, Wallace Collection and the Louvre.
Then when you feel strong look at the
wave,

magpie,

crocus,

yacht,

sycamore,

cliff,

bath,

apple,

knee,

whippet,

lemon,

hollyhock,

pier,

bicycle,

nude,

tree,

riverboat,

daffodil,

squirrel,

Ferris wheel,

moorhen,

peel,

spider's web,

gorse,

Saint John's wort,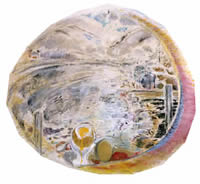 boiled egg,
butterfly,

primrose,

cloud,

rose.

Jeffery Camp, February 2002