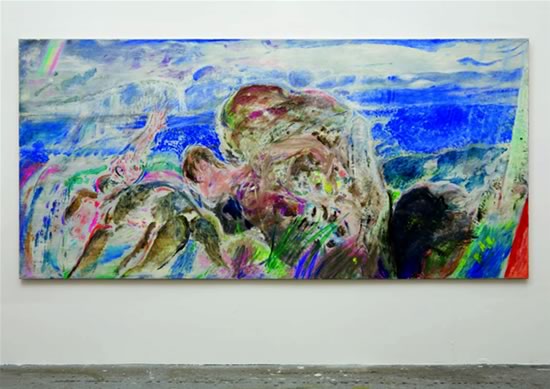 The coastal landscape of Sussex is only one of Jeffery Camp's themes, but it is one that he has constantly returned to since he first started painting there in the early 1960s. Beachy Head, Birling Gap, the Seven Sisters, Cuckmere, and the rest, have provided the setting for Camp's lyrical reaction to the world.
In recent times these explorations have been made on small irregular shaped supports but early in 2006 there were hints that he was working on large scale, south coast paintings again. Fling, (60" x128") was the first to be revealed, Cleft, (78"x120") and then Peninsular, (48"x108") followed and, finally, the massive five section Ralph, (156"x168") completed the sequence.
They are remarkable paintings. Their scale, ambition and energy reveal an artist with a sustained determination to keep pushing his work to extremes and a fierce resistance to compromise. These painting, along with a group of smaller works and drawings, will be shown together in an exhibition that celebrates Jeffery Camp's 84th birthday and the Gallery's 21st.
Accompanying the exhibition is a 40 page publication with 27 colour plates and text by: Frank Auerbach, John Craxton, William Feaver, Anthony Green, Timothy Hyman, Andrew Lambirth, John McEwen, John McLean, Richard Morphet, Norman Rosenthal and Barry Schwabsky.
Jeffery Camp has had regular exhibitions in London since his first one-man show in Helen Lessore's Beaux-Arts Gallery in 1959 and his work features in both public and private collections including Tate Britain. He is a Royal Academician and also an author of distinction with his two immensely popular books, Draw (1981) and Paint (1996).
Recent exhibitions by Jeffery Camp at Art Space Gallery:

Paintings and Drawings 2005 20 October - 26 November 2005
Paintings 1970 - 2002 5 April - 4 May 2002
Visions of London 28 May - 26 June 2004